INSTALLATION OF GRP GUTTERS IN LEICESTER
Coverclad Services were tasked to install GRP gutters in Leicester at a retail store under instruction from a facilities management firm. The existing front elevation perimeter felt gutter (which had already received historic repairs) was failing and water was leaking into the building below.
The client required a material warranty from the repairs, so our Coverclad GRP gutter experts recommenced installing a new GRP gutter over the top of the existing felt gutter (glass reinforced plastic is extremely hard wearing and generally lasts longer than cold liquid applied membranes).
Photos from the GRP gutter installation in Leicester are below. If you need help with your industrial gutters please telephone 01384 573088. If you have an industrial gutter emergency then please call 07976 726770. Alternatively you can send us a message.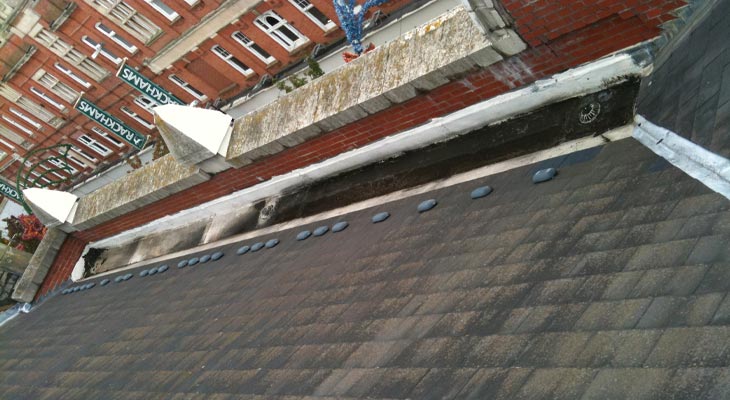 Survey photo of the failing 15 metre front elevation perimeter felt gutter with debris and vegetation build-up (old felt gutters often fail due to lack of maintenance, ponding water, debris and solar degradation).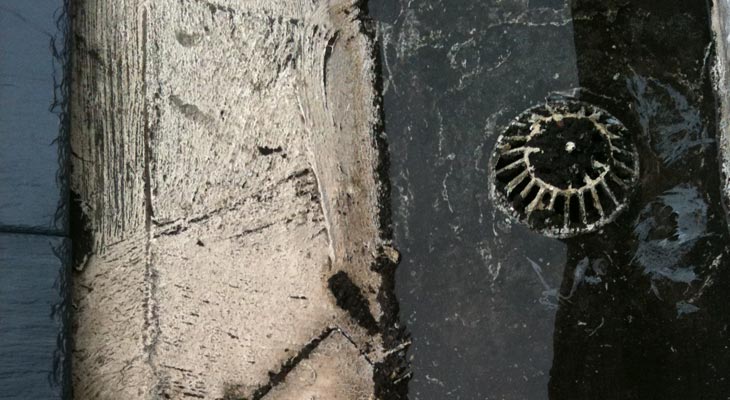 Before close-up showing one of the old weathered, cracked and blocked outlet guards to the felt gutter.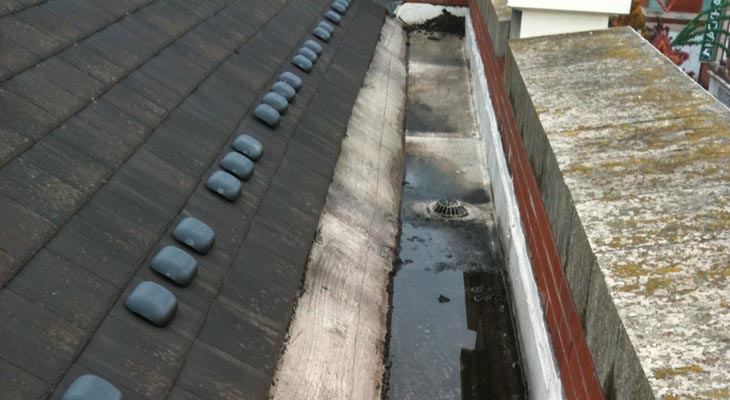 Glass reinforced plastic gutters need to be constructed under dry conditions to avoid contamination, so the first job for our GRP installers was to clean and dry the gutter out.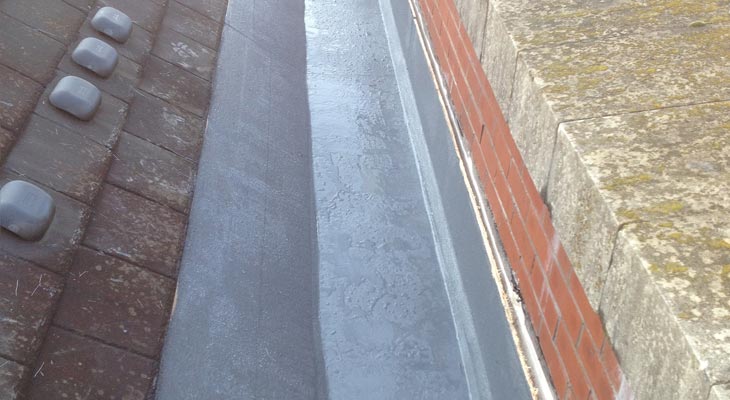 Progress view showing boarding in position and resin applied to form the new gutter. You can see the boarding edge sealed against the parapet wall, just weatherproof flashings and final seals to finish.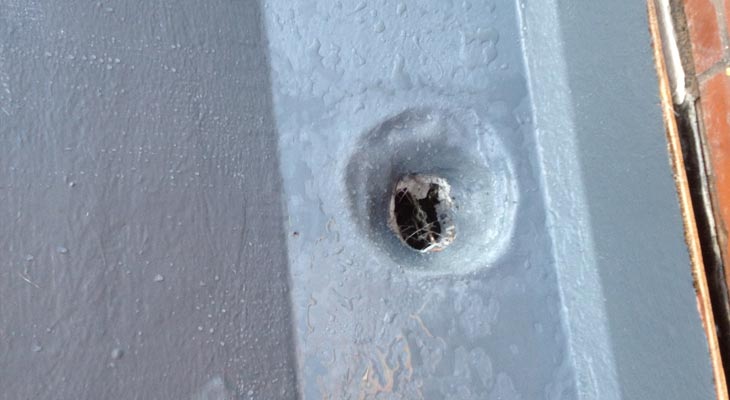 Progress close-up view showing resin sealed around and down into an outlet.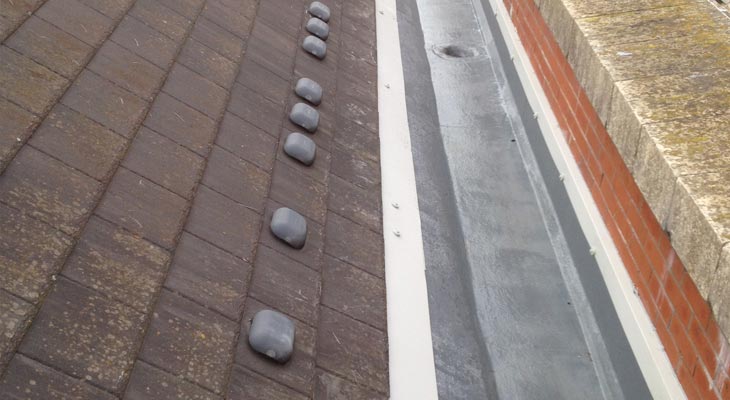 Progress view showing the main gutter body installed with one preformed weatherproof flashing sealed against the parapet wall over the GRP, and another preformed weatherproof flashing extending up under the first two courses of roof tiles (this flashing gathers any water that seeps through the roof tiles, essentially extending the actual roof, cascading the water down into the new GRP gutter).
Close-up showing the completed GRP gutter with new plastic outlet guard (overnight rain had caused dirt to collect from the roof into the newly formed GRP gutter). Hand rail scaffolding was fitted to the front parapet wall during the GRP installation to meet current regulations.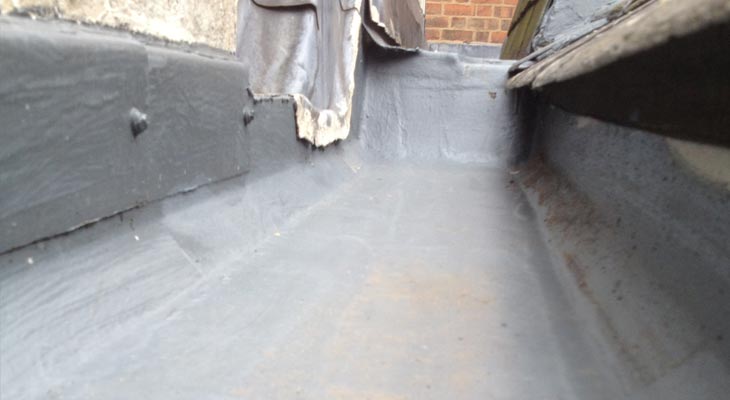 Low-level close-up of the completed GRP gutter showing the step-down half way along. Overall for this job, we dispatched two of our GRP gutter installers to Leicester to undertake the works.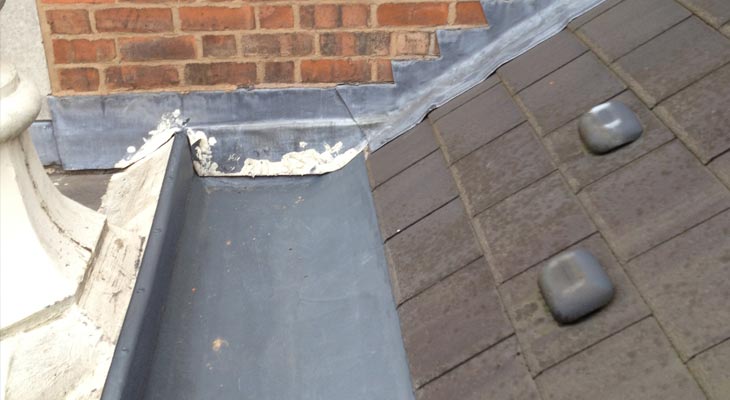 Close-up endpoint view of the completed GRP gutter with weatherproof flashings in place. The existing stepped lead counter flashing in the background was lifted away whilst the gutter works were undertaken and then reinstated at the finish (see the white remanence of old liquid applied membrane on the lead).