ASBESTOS ROOFING REPAIRS & REMOVAL
At Coverclad Services all work is carried out by fully UKATA (UK Asbestos Training Association) trained roofing specialists that follow strict health and safety regulations to safeguard both their clients and themselves. Our asbestos roofing specialists undertake isolated asbestos repairs, escalated restoration (involving various disturbances such as asbestos drilling), and complete safe removal and disposal of asbestos sheeting. To speak with one of our asbestos roofing experts please call 01384 573088. Or if you require an immediate asbestos roofing emergency callout, please call 07976 726770. Alternatively you can send us a message.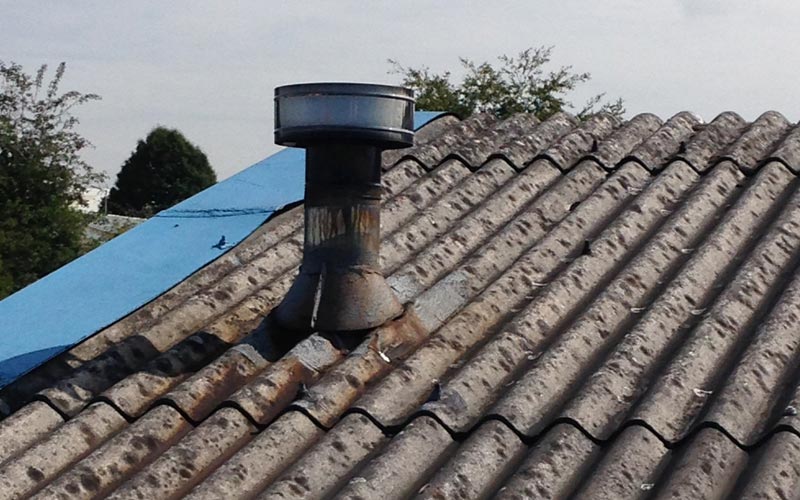 Isolated Asbestos Repairs
Asbestos enquiries begin with a site survey, cleaning, inspecting and checking specific areas of concern. Moss and vegetation is common place and water ingress from gutters, worn fixing bolts and cracked sheets are a regular occurrence. Isolated asbestos repairs are carried out using various encapsulating methods, self adhesive flashing strips and bridging compounds.
Escalated Asbestos Cracks
Upon areas of asbestos roofing suffering more escalated cracks or wider damage, Filon DR sheets (great for corrosive environments) can be fitted over the top as a new roofing layer. Asbestos gutters can be treated with superior products such as Giromax HPG, and Giromax Delglaze can be applied to rooflights to prevent further degradation whist they remain in situ.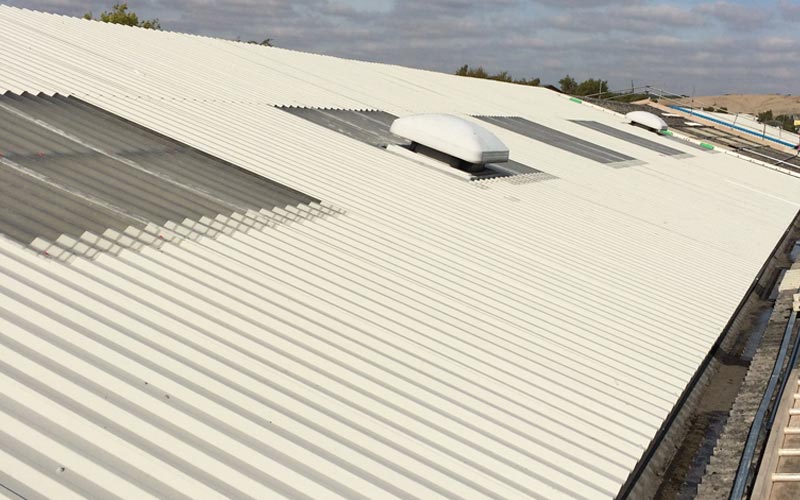 Replace Asbestos Roofing
In more extreme cases where the asbestos roof is failing, a new metal profile roofing layer can be fitted over the top, to overclad and fully encapsulate the asbestos roofing. Alternatively the asbestos roofing can be safely removed and disposed of in the correct manner, then replaced with a new single skin, built up or composite cladding system as required by the client.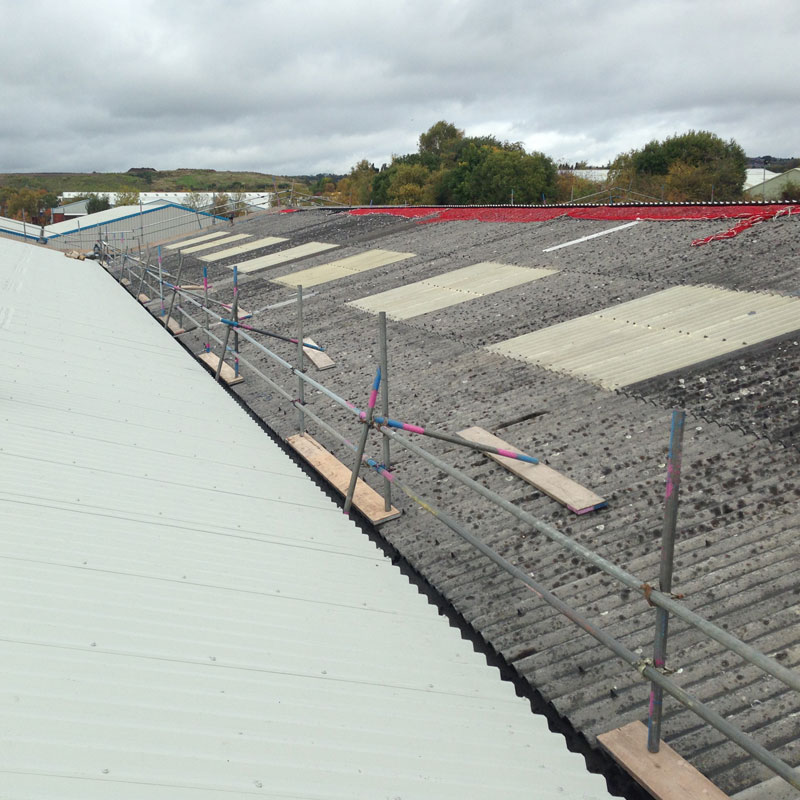 Case Study: Asbestos Roofing in Dudley
Introlux contracted Coverclad Services to rectify numerous leaks to 3000 square metres of asbestos roofing in Dudley. Our task was to remove asbestos roofing debris and clean existing roof lights, then supply and fix Uniclad 34/1000 profile 0.7mm thick plastisol coated metal roof sheets to a pre-galvanised metal grid system, through the existing asbestos cement roof sheets to the roof purlins, complete with insulation. External Class 3, 2.44kg GRP roof lights were also incorporated to match the existing roof light pattern, plus 0.7mm plastisol coated weather flashings to ridges, eaves and verges to match. The client remained in occupation during the works and multiple asbestos safety precautions were implemented.