INTERNAL OVERCLAD AND GUTTER REMEDIAL WORKS IN DUDLEY
Coverclad Services was contracted to carry out various remedial works together with an internal overclad in Dudley on behalf of the main contractor at an oil refinery. The unit in question was in some need of a tidy up.
Our main task was to fit 0.7mm plastisol coated single skin metal profile wall cladding sheets (in goosewing grey) along three internal side elevations. The first side elevation was 9 metres in length, the incline return was 5 metres in length (rising by 1 metre) and the rear side elevation was 19 metres in length. And there were various issues to solve in order to achieve a flush finish to the internal overclad, including gridding out and cutting wall cladding sheets to fit around protruding steelwork, brick columns and blockwork.
Over and above the internal overclad, we were also tasked to solve other issues including carrying out gutter remedial works to the outside of the unit, after a previous contractor had not properly installed a metallic gutter. Water ingress was cascading down the inside of the walls, gutter joints were not sealed correctly and the wrong bolts were used to fix the gutters into position.
Overall the internal overclad and gutter remedial works in Dudley spanned a period of three weeks, with several visits being made to site due to preparations and working in and around other contractors. Photos are below. If you require industrial wall cladding installers in Dudley please telephone 01384 573088. If you are in need of emergency industrial gutter repairs then please call 07976 726770. Alternatively you can send us a message.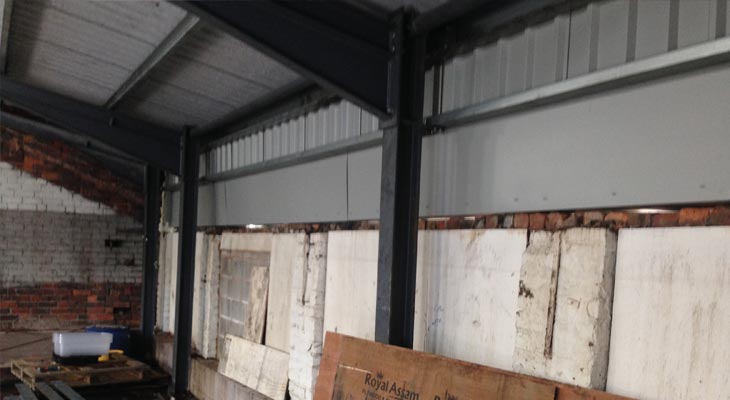 Internal view of the first side elevation before works began, with steelwork, protruding brick columns, exposed blockwork and wood boarding panels making for an uneven surface.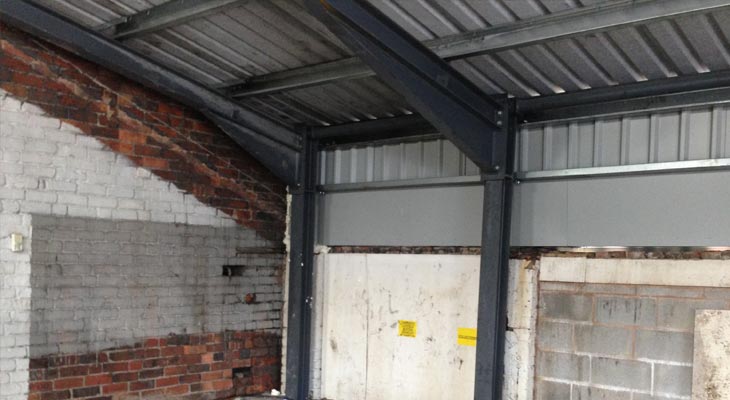 Internal view of the second return elevation, a brickwork incline leading to the rear side elevation.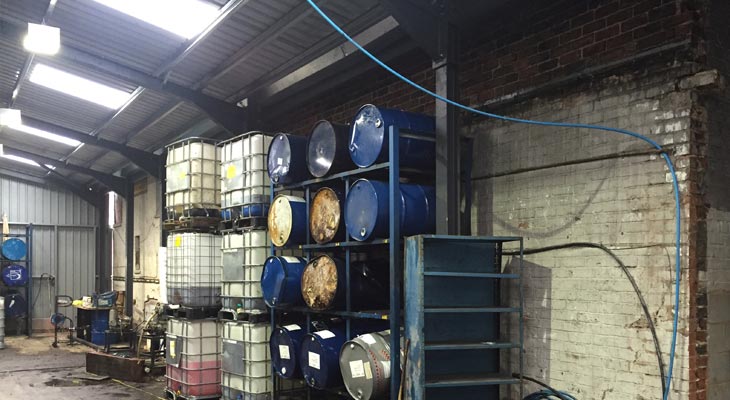 Internal view of the third rear side elevation with drums stacked (that were removed before work commenced) and a sagging high-level industrial gutter (a previous contractor had not sealed the gutter joints correctly and wrong bolts were used to fix the gutter into position).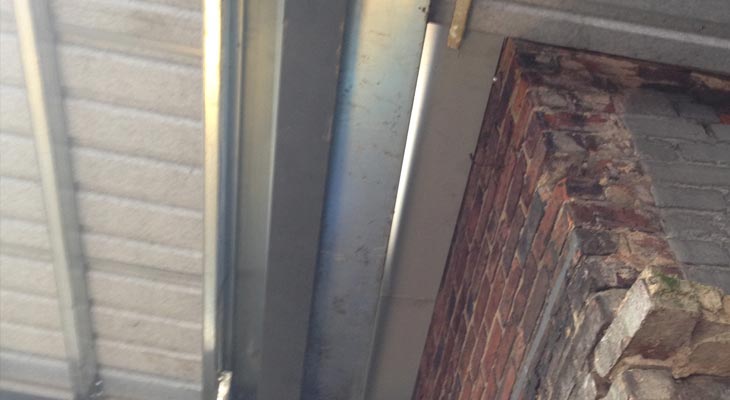 Close-up showing no seals between the industrial gutter and roof, leaving a gap for water to cascade down the roof slope into the gutter and then into the unit and down the walls.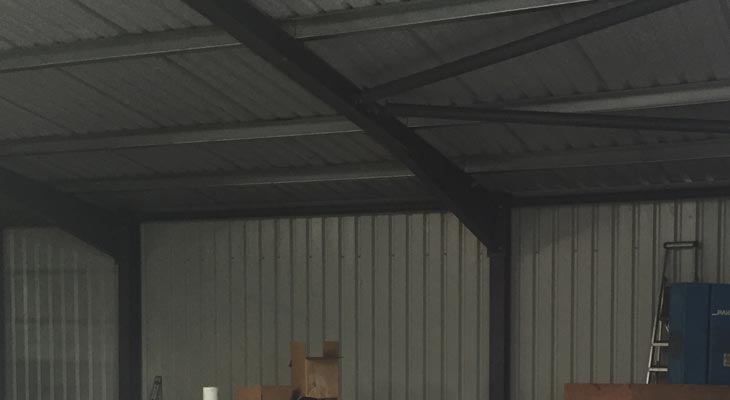 Completed internal overclad to the first side elevation using plastisol coated metal profile sheets and associated flashings. Our Birmingham wall cladding experts carefully gridded out around the various uneven surfaces of brick, block and steel to achieve an even wall cladding finish.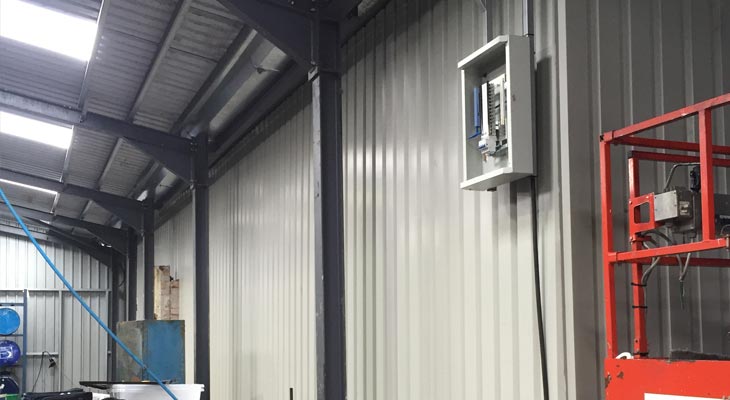 Completed internal view of the return elevation turning into the rear side elevation, with wall cladding, sills and corner flashing in position. Our wall cladding installers coordinated with other trades to relocate the electrical box as shown.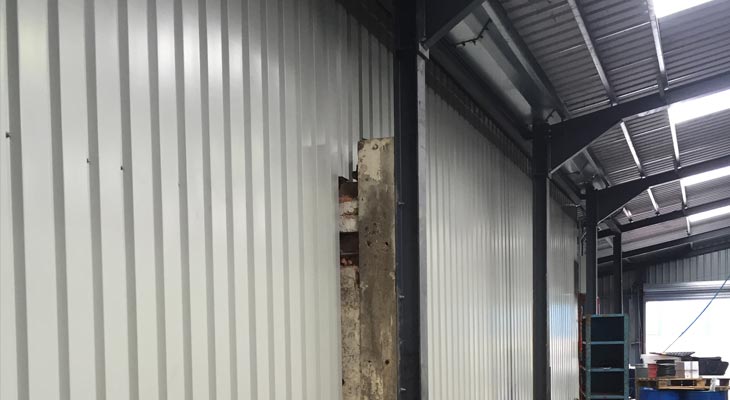 Completed internal view from the back of the rear side elevation. Again our wall cladding experts flashed around existing brickwork to achieve a quality finish. Gutters realigned, sealed and bolted correctly at the top of the photo as well, plus high-level closure flashing fitted to close the gap.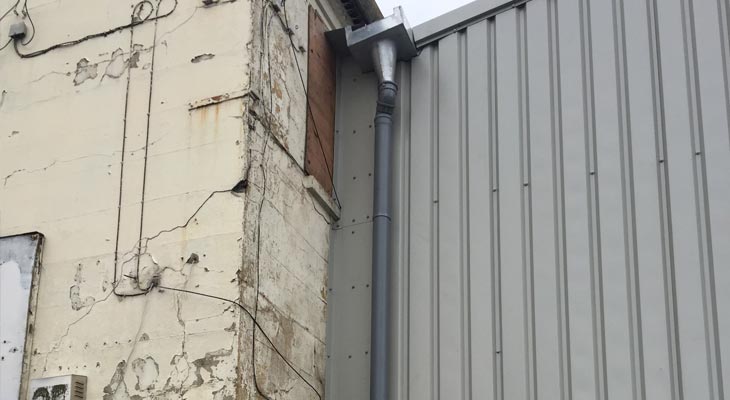 Example of one of four plastic downpipes with bends that were installed to outlet points around the unit's industrial gutters.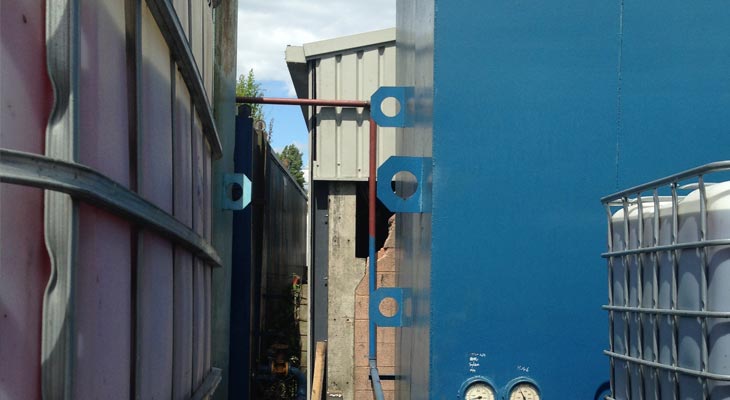 View of a large hole in one of the corners of the unit. A closely secured pipe to the outside meant profiled wall cladding sheets could not be used.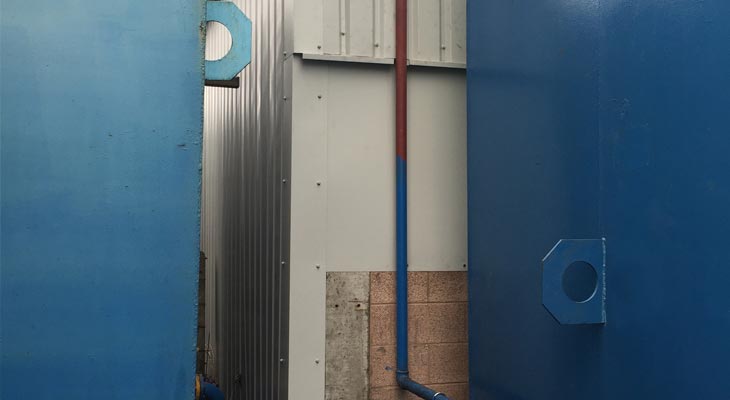 To cover up the hole behind the closely secured pipe, our cladding experts installed a 2mm galvanised steel plate, tightly fitted to the wall with associated 0.7mm plastisol coated corner flashings and drip sill.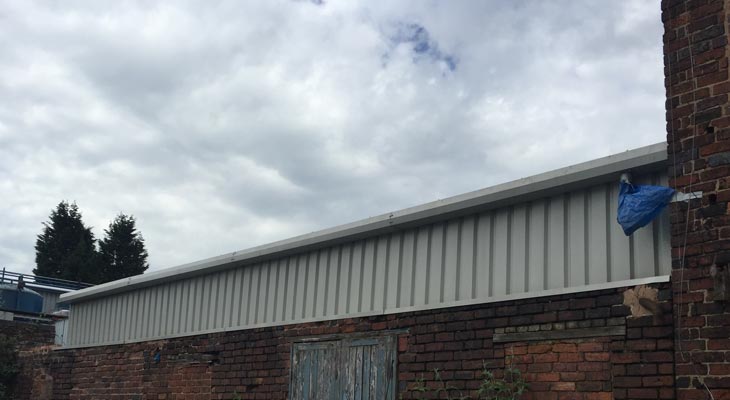 On one side of the unit, the bottom sill joints to a small high-level elevation needed re-sealing, plus a new plastic downpipe needed to be installed to take water away from the industrial roof gutters.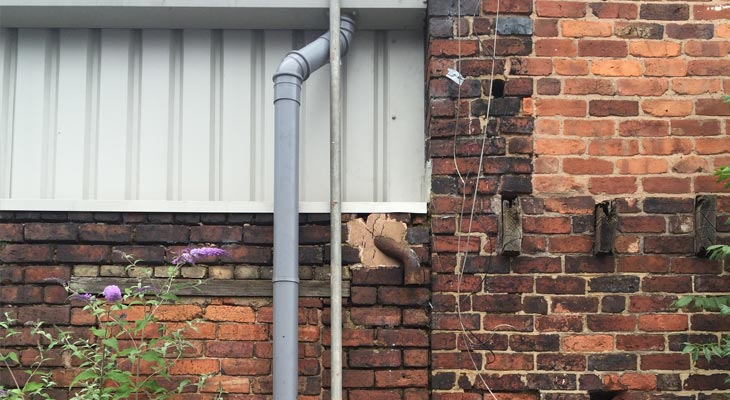 The existing external wall cladding sheets to the small high-level elevation were removed to gain access to the bottom sill joints, which were prepped and re-resealed with Giromax. Then the new plastic downpipe with bends was installed to finish the area of works.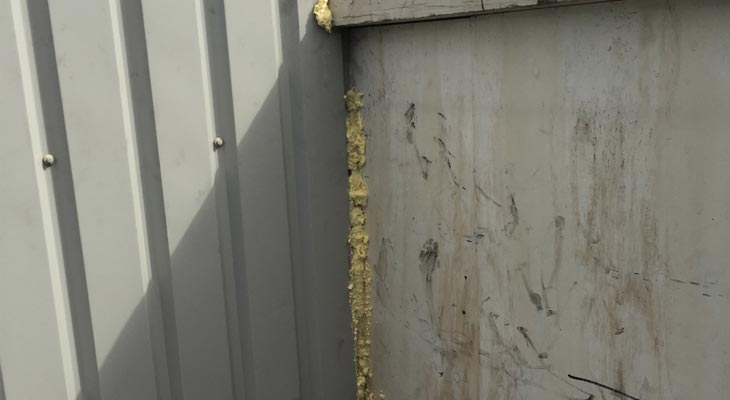 Corner view to one of the roofing areas where canister foam had previously been used to try to seal a gap.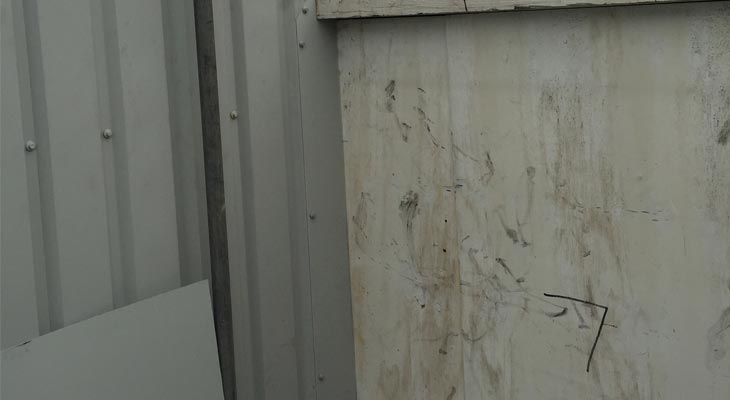 The foam was removed and Giromax together with a new 0.7mm plastisol coated corner flashing was used to successfully seal the gap and make water tight.