WALL CLADDING REMEDIAL WORKS IN NORWICH
Coverclad Services were contracted to carry out wall cladding remedial works in Norwich, to the front elevation of a retail unit on behalf of the main contractor. The unit was going through a stage of refurbishment in preparation for the new tenant.
Our tasks included removing the existing wall cladding and signage to facilitate the installation of three new glazed sections and a new goal post entrance feature (steelwork by others). We also supplied and fixed new 0.7mm plastisol coated single skin cladding sheets along with associated top cappings and sill/soffit details above the new glazed sections, and a new aluminium panel system to the goal post feature, plus Kingspan MR1000 insulated panels to the signage area.
Works took place over a series of visits around the overall progress of works. Photos are below. If you require industrial cladding specialists then please contact us on 01384 573088. Alternatively you can send us a message or telephone us on 07976 726770 if you are in need of an emergency callout.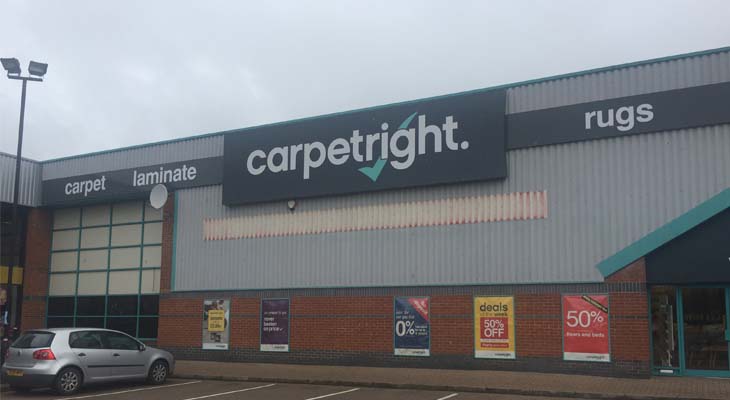 View of the front elevation before works began.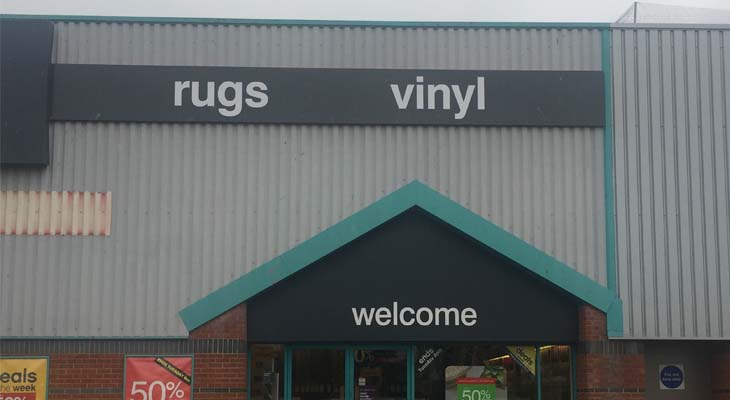 Close-up view of the main entrance, comparing the existing cladding profile against the wider cladding profile of the neighbouring unit.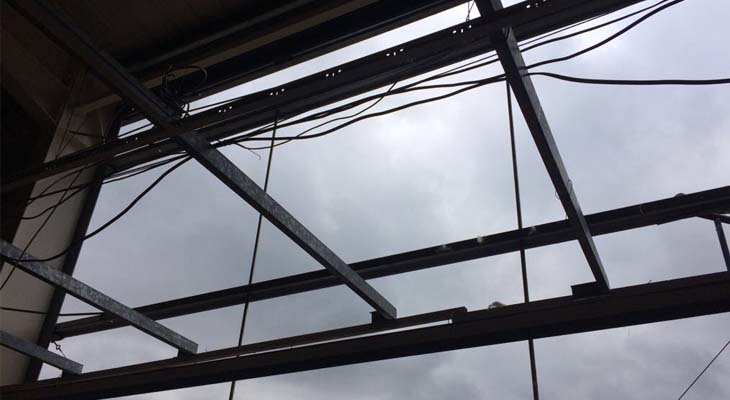 View from the inside looking out of the front elevation. Existing built-up system removed ready to facilitate installation of the new glazed section by others.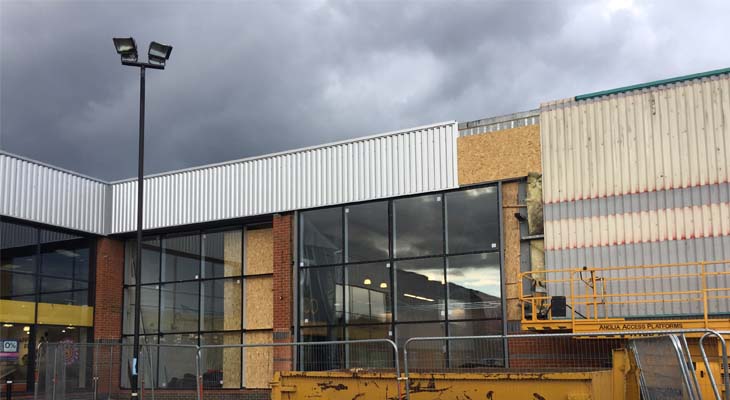 Progress view working from left to right along the front elevation, installing the new wall cladding sheets above the glazing sections, matching colour and profile as close as possible to the neighbouring unit.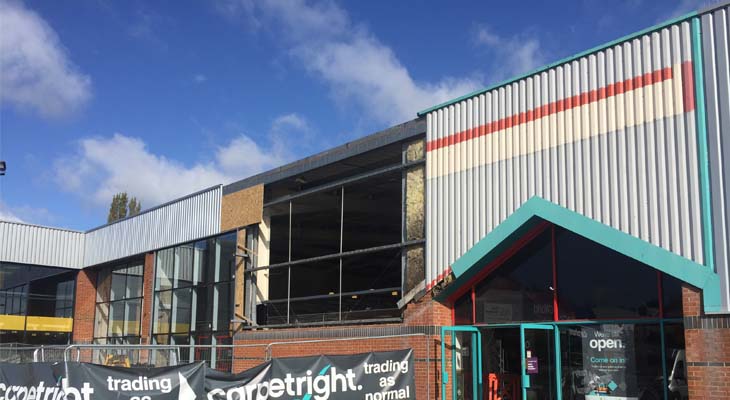 View showing the front elevation central area with existing built-up wall cladding system stripped back, making way for others to install the aluminium goal post feature.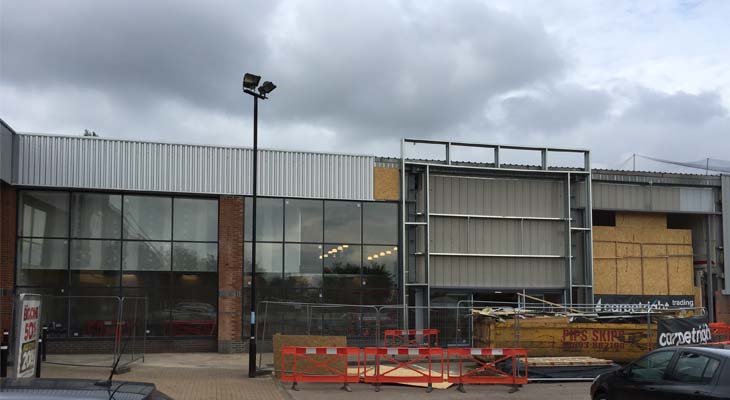 Progress view moving across the unit, with new lining sheets installed to the central area and the aluminium goal post feature erected into position.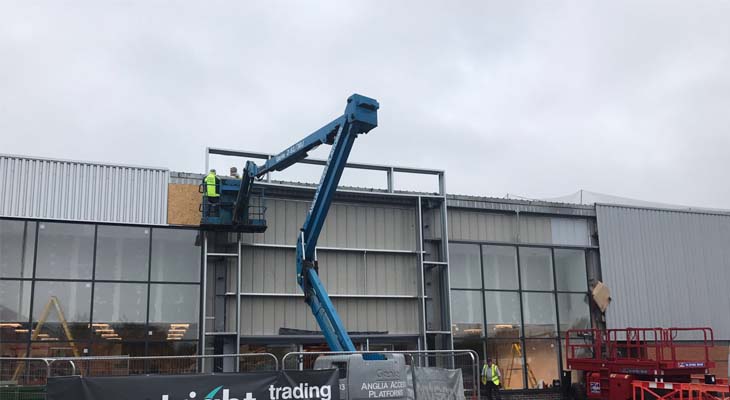 Our Coverclad wall cladding experts starting to install the designed and prefabricated aluminium panel system for the goal post feature, working from an articulated boom. Third and final glazing section installed by others to the right-hand side of the unit.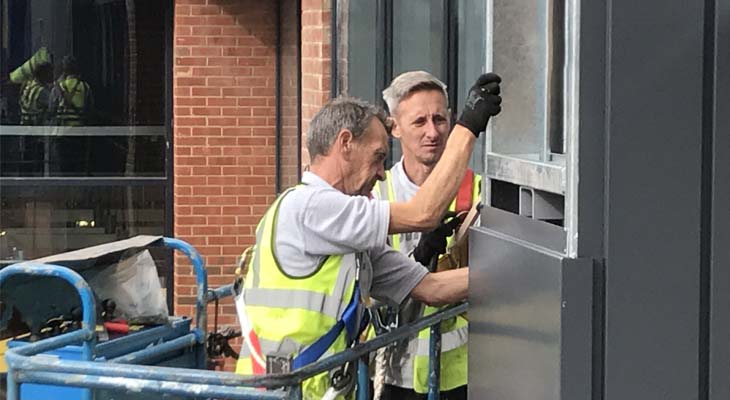 Close-up showing our wall cladding installers offering up the prefabricated aluminium panels to the goal post feature.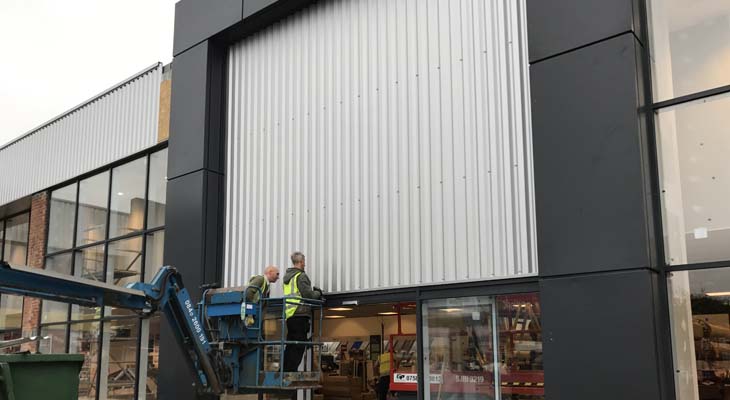 Kingspan MR1000 insulated panels with associated base sills being installed to the signage area.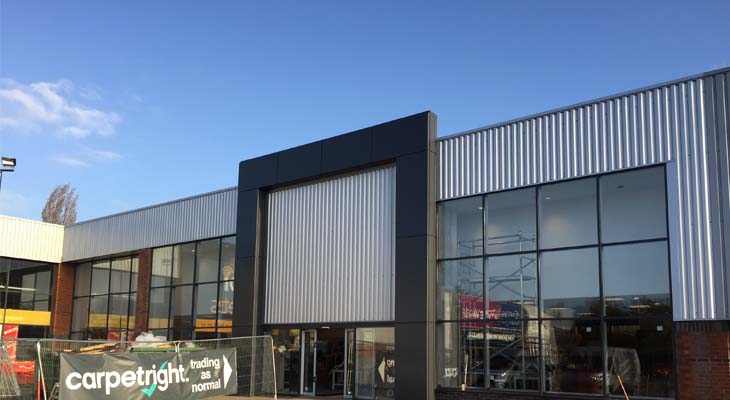 Completed view of the front elevation wall cladding remedial works in Norwich.